Hiking in Tirolo near Meran - South Tyrol
The ancestral castle of the region set high above Merano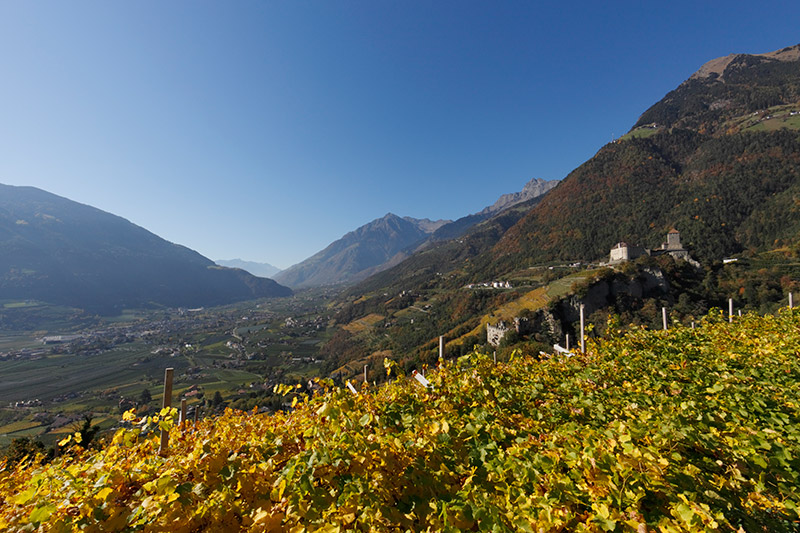 Hiking Trips Tirolo
The area around Tirolo is a hiker's paradise. Around 70km of signposted trails cover easy to more challenging hiking routes each of which boasts a wonderful panoramic view. There are a variety of very enjoyable walks along the picturesque irrigation channels known as Waalwege. You can learn more about the cultural landscape of Tirolo by checking out the themed walks, such as the Apple or the Wine Trail. Trails such as the so-called Panoramaweg and Herrschaftsweg offer wonderful views of Tirolo and the area surrounding Merano. A stroll along the Tappeiner and Falkner Promenades with their Mediterranean and subtropical plants is suitable for the whole family. The Gruppo di Tessa Nature Park stretches out above Tirolo. Here you can find the Meraner Höhenweg path which is one of the most beautiful walking routes in the Alps with altitudes varying between 1000m and 3000m. Take the Alta Muta cable car to the ancient farmsteads above Tirolo and from here through alpine terrain you can reach the Spronser Lakes (Laghi di Sopranes) as well as some popular panoramic walking trails.
Tirolo and Merano and the surrounding areas have a lot to offer culturally with their numerous castles, churches and museums.
The longest journey starts with a single step
Climb the mountains and get their good tidings. Nature's peace will flow into you as sunshine flows into the trees. The winds will blow their own freshness into you, and the storms their energy, while cares will drop away from you like the leaves of autumn.
(John Muir, Scottish-American Naturalist, 1838 – 1914)

Photo right: Bird Care Centre at Tirolo Castle